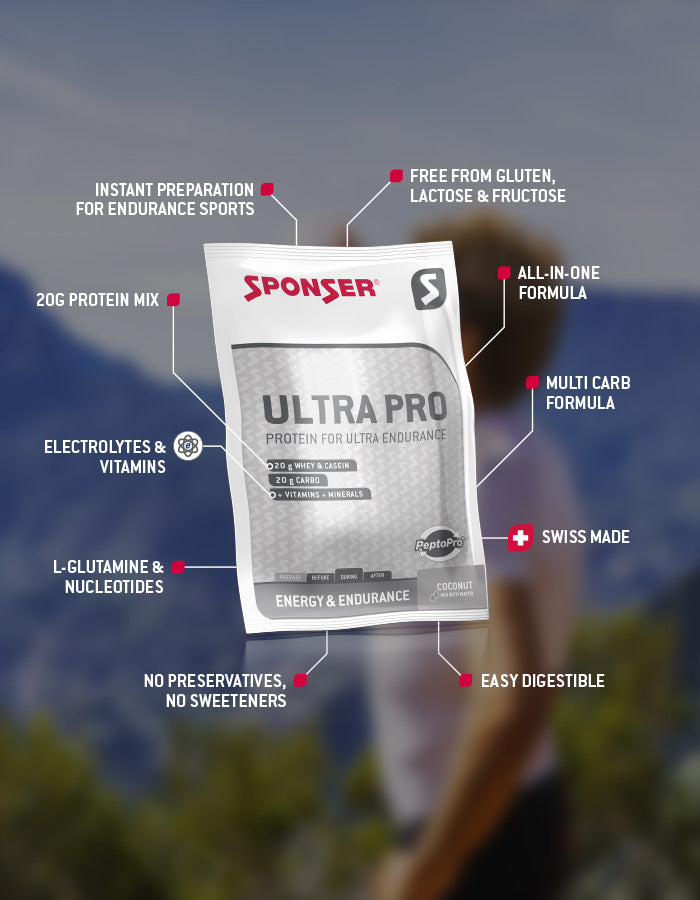 The most important facts about ULTRA PRO
• Convenient all-in-one instant preparation – for long-duration running, cycling, hiking, training camps and multi-day events.
• 20 g carbohydrates for a staggered energy supply and 20 g easily digestible protein.
• High quality – whey protein and casein reduce catabolic muscle load and support recovery already during performance.
• Functional – enriched with nucleotides, vitamins and minerals as well as L-glutamine.
• Tasty – pleasantly mild coconut flavour.
• Convenient – in a sachet for mixing with water.
• Very digestible – no preservatives or sweeteners, gluten-, fructose- and lactose-free.
ULTRA PRO now on sale!
Due to the shortened best before date (03/2022), ULTRA PRO is now available at the special offer price of CHF 3.50 / EUR 2.90 in the SPONSER webshop. The offer is limited and while stocks last.
Related articles
order here » ULTRA PRO
see graph » ULTRA PRO
on » endurance performance
shop » energy & endurance
on » race nutrition