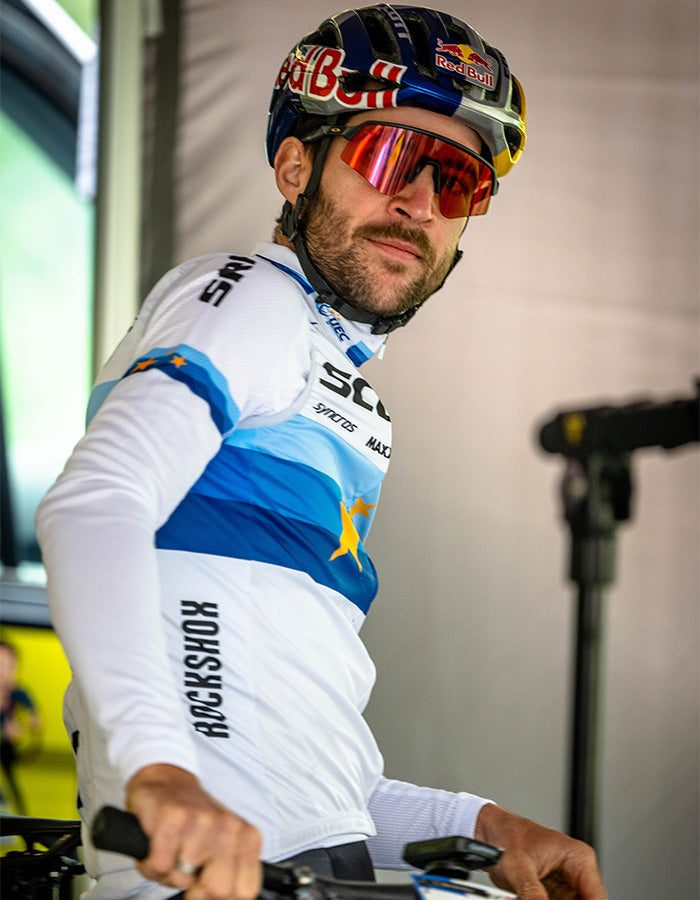 Photo credit: Rémi Fabrègue, SCOTT-SRAM MTB Racing Team
The MTB pro about motivation in difficult times and his nutrition in competition
Connoisseurs of the scene agree: Lars Forster from St. Gallen is one of the emerging stars in Swiss cycling. Little Lars (*1993) practically grew up with the mountain bike. From childhood on he rode trails, practiced jumps and worked on his riding technique. So it's not surprising that he is now one with the best technical skills and plays out his strengths especially in wet, technically demanding conditions. Lars was one of the best in all age groups and already in his first World Cup races as an elite rider he finished among the top riders. This earned him a ticket to the 2016 Olympic Games in Rio. The next milestone followed in 2018, when he won the European Championship title in Glasgow. He celebrated his first World Cup victory in Snow Shoe (USA) in 2019. That's how we hope it will continue in the future. Lars' next big goal is an Olympic diploma in Tokyo. Ideally, he will even reach the podium there together with his team colleague Nino Schurter.
In this interview, Lars Forster reveals some secrets in his diet and explains how he keeps motivation up even in difficult times.
Lars, how do you motivate yourself as a professional athlete in these times when there are no competitions?
It was not always easy during these times. In the beginning, I tried to concentrate on the fun of biking. Later, when the world cup calendar came out, I was top motivated again. Unfortunately, almost all competitions were cancelled. Because I was already in a very good shape again at that time, I continued training. I said to myself: If it doesn't work out this year, I will build the basics for success for next year.
What are your next competition goals?
The main goals are on all races that are still to come: a world cup race, the world championships and the European championships. Since all races follow each other almost directly, I have to be really ready.
How important is nutrition in everyday life for you as a top athlete?
Nutrition plays a major role in the life of a top athlete. But I do not follow a strict plan. I take care to eat a balanced and healthy diet.
Do you cook yourself?
My girlfriend and I alternate with cooking. My favourite dish is rice noodles with vegetables and coconut cream.
What are your favourite products in competition and training?
My favourite SPONSER product is the COMPETITION sports drink during competition. At present I especially like the taste Cool Mint. After a hard training I always look forward to the PRO RECOVERY Shake Vanilla.
What is the most important advice you give an ambitious mountain biker regarding food and nutrition?
My most important advice is to test the products sufficiently in training to find out what works best in competition under physical stress. It is a tightrope walk: If you eat too little, your power decreases. If you consume too much, stomach problems are imminent.
What do you like to eat/drink most to celebrate a victory?
I like best to celebrate a good race with pizza and a glass of wine.
When it comes to nutrition, have you ever really "messed up" a competition that you were annoyed about afterwards?
Yes, there was a time... A long time ago, before a Wednesday evening street race, I felt too hungry before the start. Out of a joking mood, I and others ate a bratwurst before the start, knowing of course that this would not come well. Which proved to be true...
Related articles
on » interviews
on » performance optimisation
shop » energy & endurance
sport » mountainbike
goal » professional & competitive sports